Sanders Brogues at English Brands – The Festive Shoe Design for 2018
Brogues are a staple shoe design that can go with range of smart-casual and formal outfits.
From the finishing touch to a 3-piece suit to the perfect statement for pairing with smart trousers, they're a footwear essential that should last for years to come.
---
There are many brogue designs available on the market that come in a range of colours and an array of patterned designs. Some are slimmer than others while others carry a certain look that's difficult to define. But one thing we can guarantee at English Brands is that they won't carry the same amount of prestige as our Sanders Brogues available in store and online.
Sander Brogues at English Brands – More Than What They're Made From
One of the most distinguishing features about each Sanders Brogue is the materials by which they're made from. Each shoe design is made from the softest calf leather upper and each has full leather lining as well as a leather sole. Not only does these authentic materials provide a high level of comfort but they also ensure new shoes that are bound to stand the test of time.
However, despite the quality of the materials or the guaranteed comfort of these shoes, one key differentiator surrounding them is the fact they're a Sanders product.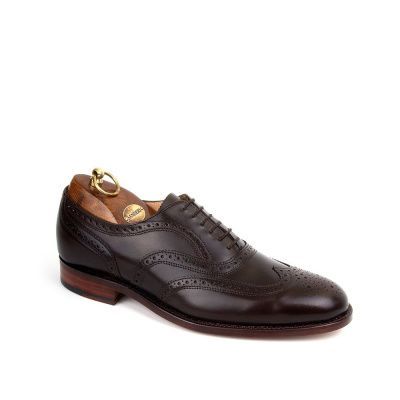 Sanders - A Proper Shoe Brand
Established in 1873, Sanders have been making shoes for over 146 years. A family-run business that started from humble beginnings in Northamptonshire, their shoes have become world renowned for their perfect proportions and expert craftsmanship.
Through two world wars and years of hardship the Sanders brand has survived, and now their luxury shoe designs are sold all over the world, in places such as London, New York & Boston.
If you're looking for a luxury staple just before Christmas, then these brogues are certain to do the trick.
For more information call us today on 0121 448 8511 as we'd be happy to go through any queries you might have. Alternatively, pop-in and visit our new home: we'd be happy to give you best possible service.
---