The History of Brogues at English Brands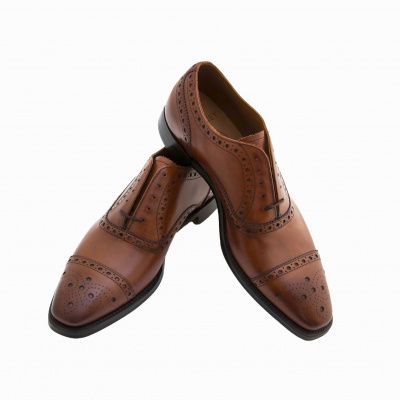 It's seems like autumn has fallen without us knowing, and the famous summer of 2018 has become a distant memory.
---
No longer are we in search for lighter more comfortable footwear, instead we're now in need of a solid shoe for the colder mornings and darker nights: something sturdy, yet still stylish & elegant.
Substantial and properly British, is there nothing more gentlemanly than a smart pair of brogues for September, October, November and Christmas?
At English Brands, we don't just think so, we know so….
We thought it might be interesting to delve into the archives and understand where brogues came from, what their origins are, and why they're such a wise investment for you as an English Brands' customer.
Read on to find out more.
Brogues at English Brands - A Short Explanation of a Long History
The roots of brogues as we know them trace all the back to the once British colonies of Scotland & Ireland. The word 'brogue' itself comes from the Gaelic word 'brog', which came into the English language in around the 16th century. It was a word first used to describe a form of outdoor, country walking shoe worn by men.
Constructed using untanned hide leather skins, these outdoor shoes were often patterned in variations of different styles. The arrangements themselves were printed on to the brogues to drain water from the wet and cold weather of the British Isles, and the pattern themselves were simply used as an exercise of playful craftsmanship.
Almost through an ironic twist of fate, these symmetrical patterns became a part of etiquette & decorum, a symbol brogues of the brogue shoes itself.
A Change in Perception - Brogues at English Brands
Over time it seems that perceptions have changed, and brogues are now not only considered a practical shoe perfect for England's colder seasons, but as a fashion symbol suitable for both professional and social contexts.
At English Brands, we have appreciation for the solid brogue, and our variety of designs come in a range of different colours, materials and patterns.
Whether you're looking for something for Monday-to-Friday, or are perhaps in pursuit of something for the weekend or special occasions, we're confident you'll find it's difficult to go wrong with our ever-widening range of brogue designs.
If you'd like to have any additional information about any of the brogue designs, call us today on 0121 448 8851 as we'd be happy to go through any queries you might have.
Alternatively, pop into our brand new boutique shop that has recently opened in Birmingham premier lifestyle location, the Mailbox. We'd be happy to walk you through our collection face-to-face.
---