English Brands' Joseph Cheaney Collection
At English Brands, we boast an array of different shoe designs from several brands. Whether you're in pursuit of day-to-day business shoes or need a pair for a special occasion, we guarantuee there's something for you in our wide collection.
---
Perhaps one of our most signature brands is Joseph Cheaney & Sons. A family business with over five generations, Cheaney shoes are renowned for their impeccable craftsmanship and handmade detail.
The company is still working from its original factory in Desborough, Northamptonshire, not too far from our own shoe shop in Birmingham. This means we're able to source the brand's latest & most sought-after designs right from the factory.
Check out 2 of our most noteworthy pairs below:
Joseph Cheaney Trafalgar Capped Derby Boot in Black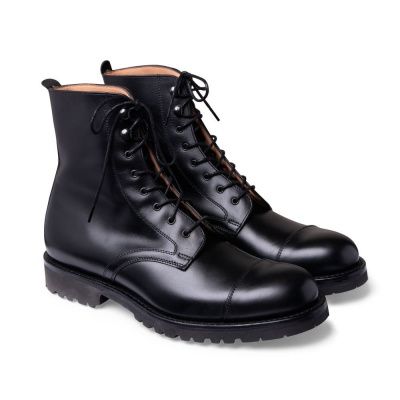 Fully leather lined and Goodyear welted, the Trafalgar is a luxury boot whose heavy-duty aesthetic is juxtaposed by the lightweight materials it's made from.
Interestingly, this boot design's double Vibram Vi-Lite sole creates a comfier, more manoeuvrable feel once worn. The juxtaposition between the brand's authentic skins & diamond rubber sole is what makes these boots so appealing. Shop yours at English Brands.
Joseph Cheaney Arthur III Brogue in Dark Leaf Calf Leather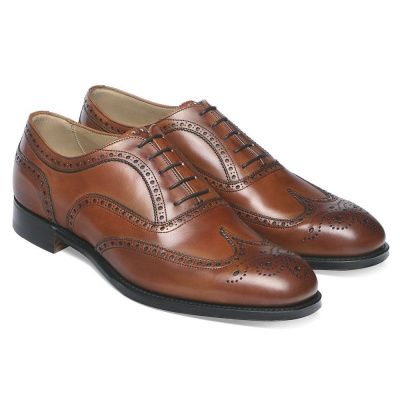 Cheaney's Arthur brogue is one of our more versatile shoes design. The shoe is F-fitting meaning it adopts a slightly wider look, while the brogues as a whole are made using a goodyear welting machine. What makes these 5 eyelet designs so appealing is their hand-burnished rich leather skin. Shop your size at English Brands.
Available in F fitting
Fully leather lined with full leather insole
Goodyear welted diamond rubber sole
Handcrafted in Northamptonshire, England
These two Cheaney designs have been handpicked from our latest 2019 arrivals, but we've got more in store and online. For more information call us today on 0121 448 8851. Alternatively, why not pop into our showroom just 5 minutes' walk from New Street Station open Monday to Saturday 10:00- 19:00 & Sunday 10:00-17:00. We'd be happy to go through any questions you might have.
---