Clarks Desert Boots at English Brands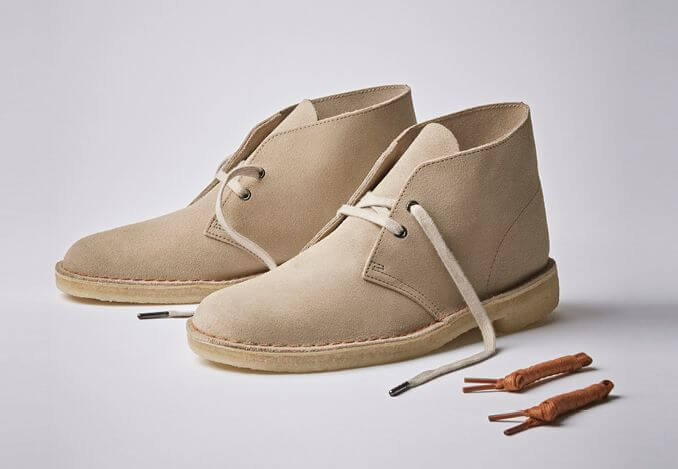 For almost 200 years, Clarks have been making quality shoe designs that have stood the test of time.
---
From when Cyrus and James Clark originally made a slipper from sheepskin off-cuts. To now, with the Clarks name recognised around the world; the brand has combined invention and craftmanship to create the best shoes using unique construction techniques.
In our archive of Clarks designs, perhaps no other model is as iconic as the Clarks Desert Boot.
Designed by Nathan Clark & launched back in 1950, the desert boot's appeal endures to this day.
Take a look at English Brand's different colourways below.
Clarks Desert Boots in Navy
Constructed in a dark navy suede & designed by the Charles F. Stead tannery, these Desert Boots stay stylish and versatile.
Launched in 1950 by Nathan Clark, the Desert Boot was inspired by a rough boot from Cairo's Old Bazaar. It was an instant hit & became the footwear of choice for off-duty army officers.
Often imitated, never bettered, its clean lines are teamed with a simple lace fastening and our signature crepe sole.
Clarks Desert Boot in Black Suede
This time in a rich black suede, the Clarks desert boot is as iconic as it is versatile. The beauty of its black colourway means it can be worn with a range of outfits. It's also versatile enough to be worn with both smart & casual attire.
Clarks Desert Boot in Cola Suede
Men's Desert Boots, beeswax - In a premium beeswax leather, these Desert Boots stay stylish and versatile. The beauty of the beeswax leather is that it adds extra protection against the elements, meaning you can wear the designs all year round and they'll look as good as new.
If you have any questions on our Clarks collections, please call us today on +44 (0) 1202 93 40 50 as we'd be happy to help.
---