Joseph Cheaney at English Brands - Shoes Fit For a King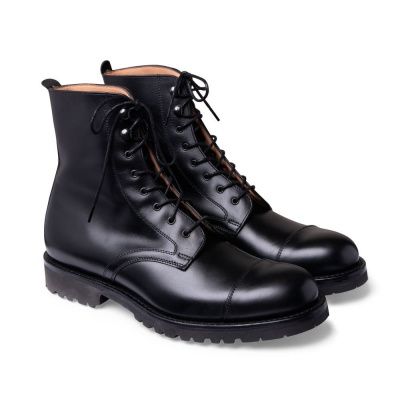 Today marks the 1st of November and it's fair to say the winter is well and truly here.
As we're descending into the depths of the cold season, the days are becoming shorter and the nights are growing longer, which means the need for solid footwear is becoming more of a necessity than a privilege.
The colder season means more adverse weather conditions, and with experts predicting the worst winter Britain has seen in a decade, the need for practical yet elegant footwear is very much a reality.
---
Trafalgar Derby Boot in Black Calf Leather
Created in celebration of the brand's 130th birthday, the King Derby boot from Joseph Cheaney is the winter boot of 2018.
Fully lined with a full leather insole, these Trafalgar Derby boots feature an F fitting design and blend the practical and necessary with the elegant and prestige.
Like all of our Joseph Cheaney collections, these shoes have been orchestrated with a good year welted sole on double Vibram Vi-Lite sole as well as rubber interlock top piece, meaning each shoes will fit like in a hand in glove - even from the first try-on.
Now Available at English Brands
With their sleek, slender look, these luxury boots create a streamlined silhouette and can work well with both smart jeans as well slim fitting smart trousers.
These boots are now available in store and online at English Brands.
For more information call us today on 0121 448 8511 as we'd be happy to go through any queries you might have. Alternatively, pop-in and visit our new home: we'd be happy to give you best service and the shoes of a King.
---